Handy Tarp Accessories for All Your Needs
28th Jan 2022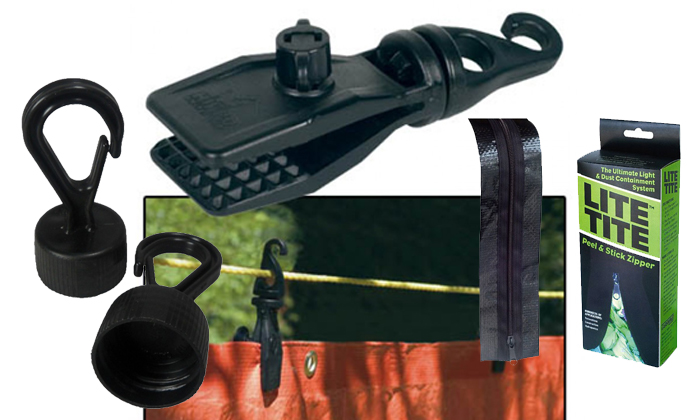 We've got some great handy new products (and some old favourites too) to help with those slightly unusual tasks that you just can't find the right accessory for. We're talking here about ingenious little products and gadgets that will help you fasten tarps where you need to, make temporary Doorways, Hatches, Secure Tarps in Places Where There's no Anchor Point, and of course there's old standbys like Dad's Repair Tape too.
First up is the simple but clever Tarp Hook. This ingenious item is just the thing to help secure a tarp and keep it covering what it's covering when there's nothing around to anchor the tarp down to. Just fill a used plastic bottle (the kind used for fizzy drinks), with water or other ballast such as sand or gravel, screw the Tarp Hook to the top (it fits most 2 litre plastic bottles and many smaller sizes), and then attach the Tarp Hooks to eyelets in your tarp. (Tip: If your covering doesn't have eyelets attach the Tarp Hook to a Hippo Clip).
Perfect for securing tarps in fields for instance - covering haystacks or crops etc. In fact there's no end of situations you could use this for, and at such a good price this is an economical solution to a vexing problem.
Another invaluable item for you to have in your tarp kit is this Hippo Swivel Clip. You'll find this handy in any situation where your tarp or covering doesn't have any eyelets or other fastening points.
Made from a heavy duty frost resistant nylon and with a fierce screw down grip, the Hippo Clip is great for use with anything from tarps, awnings and pool covers, to tent repair and all manner of home, garden, camping or fishing uses. Wherever you need grip, Hippo Clip will fit!
Lite Tite Peel and Stick Zip System. This is an amazing product that lets you easily create re-sealable access doorways in just minutes.
With its tough high density polyethylene backing, and permanent high tack acrylic adhesive, this will bond to any clean plastic sheeting or tarp - and can be used anywhere from the building site, to workshops and boatyards, and even for cold frames, plastic tent structures and ice shacks.
Dad's Repair Tape has long been a popular product. This long lasting peel and stick tape is the answer for all your tarp repair needs and more. It will stick to Tarps, as well as vinyl, plastic, rubber and even glass and aluminium.
It comes in 8ft (2.4m) lengths, is UV resistant and will hold firm even in extreme outdoor weather conditions.
Whatever your needs we've got all your tarp handling essentials! Just take a look at all the new stuff and more below.